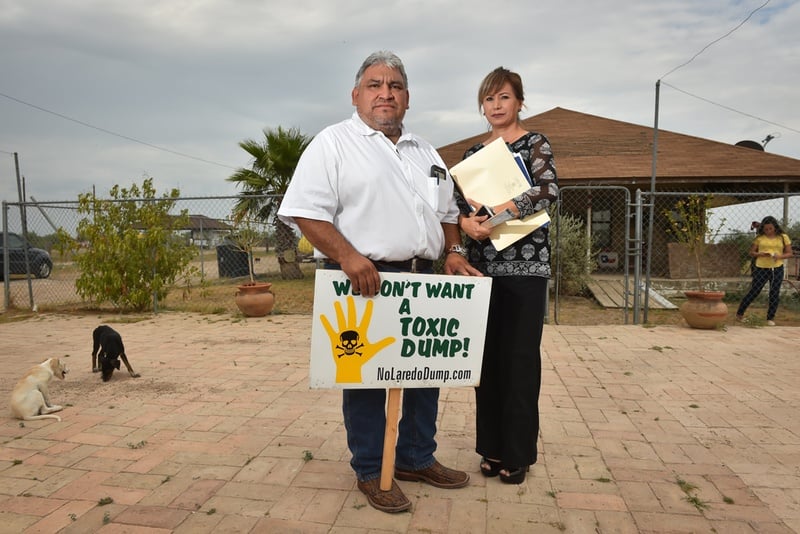 "I brought you into a bountiful country,
To eat its fruit and its goodness.
But when you entered, you defiled My land
And made My heritage an abomination."
Jeremiah 2:7
In the Trib this morning
; something about this just stinks:
LAREDO — Since Alejandro Obregón moved to a colonia along the Texas-Mexico border 20 years ago, he has fought for basic necessities like clean water and paved roads. Now a private developer wants to build a landfill just a few miles from his backyard, and Obregón is fighting again for the interests of his family and hundreds of colonia residents.

Local ranch owner Carlos "C.Y." Benavides III and his family's company have asked the Texas Commission on Environmental Quality for permission to build a 660-acre landfill about four miles south of the colonias and 20 miles east of Laredo. It would become one of the seven largest capacity landfills in the state, accepting trash and some toxic refuse from across Texas, other states and Mexico.

Obregón fears winds will blow toxic waste from the landfill into his neighborhood's homes, and he worries about residents, many impoverished and lacking regular access to medical care, getting respiratory illnesses.

....

The application calls for the landfill to accept Class 1 industrial waste, which the state considers toxic but non-hazardous. That includes waste like coal ash from power plants, residual grit from sandblasting and liquid waste from oil and gas production, including fracking. The toxins in these materials could prove hazardous at higher levels, but on a smaller scale don't pose a threat to public health or the environment, TCEQ said.

The application estimates the facility will take in about 750 tons of non-hazardous industrial waste each day, but does not specify a limit on the amount of Class 1 waste it can accept.

Class 1 waste "may pose a substantial present or potential danger to human health or the environment" when handled improperly, the commission said. Fourteen of the 198 active landfills in Texas accept Class 1 waste, according to a TCEQ report released in 2015.

That prospect has locals on edge, and they say the landfill will make their community a dumping ground for toxic waste from around the country and Mexico. But Benavides argues the proposed facility is more isolated than existing landfills and would provide a one-stop shop for waste disposal, preventing more neighborhood landfills from cropping up in the future.
Here's the thing: We've seen a June 1st letter from the Texas Commission on Environmental Quality that specifically states:
Question: Is it true that the applicant is asking to be authorized to accept for disposal Class I industrial waste, which is defined to include certain toxic, corrosive, or flammable materials and may pose a substantial present or potential danger to human health or the environment if not properly managed?
Response: Yes, if approved, the proposed landfill would be authorized to accept Class I non-hazardous industrial waste. Class 1 non-hazardous waste requires special handling and disposal because of the quantity, concentration, physical or chemical, or biological properties.
So they're trying to downplay the contents of the facility to local residents, but they're bending over backwards to get explicit permission from the regulators to do basically whatever the heck they want to do once the permits are approved.
It just doesn't feel right.
Then there's this
:
A self-proclaimed environmentalist who championed the plastic bag ban in Laredo and houses endangered wildlife on his ranch, Benavides says the landfill will include an advanced recycling facility.
Politics 101: Do a public stunt in one direction while privately moving real money in the exact opposite; in other words, if you wanted to build a toxic waste facility, it could make a lot of sense to publicly support a bag ban to build environmentalist street cred.
TCEQ will hold a hearing next week; we'll keep an eye out.