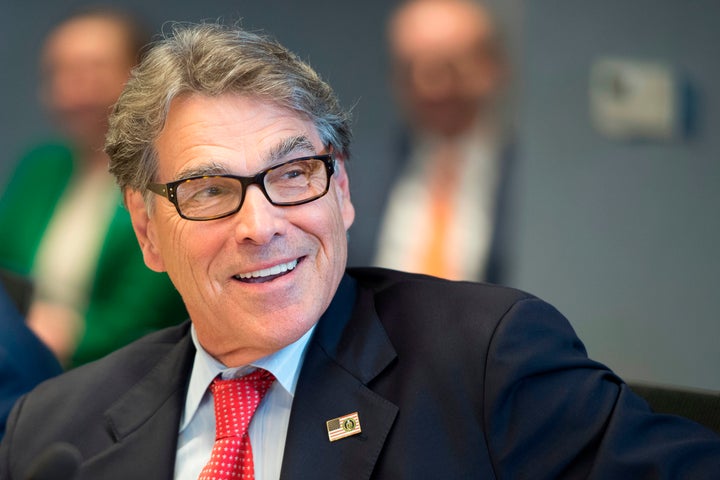 "Can the Ethiopian change his skin or the leopard its spots?
Then may you also do good who are accustomed to do evil."
Jeremiah 13:23
San Antonio Express News over the weekend
:
AUSTIN — U.S. Energy Secretary Rick Perry left the Texas governor's mansion four years ago. But he is still tapping his Texas campaign account to fly wife Anita Perry around the globe for nuclear talks and to speak at international energy meetings, records show.

In Paris last year, Anita Perry spoke at a women in energy event. She also appeared alongside her husband in South Africa on a panel about natural gas, social media accounts show.

Most recently, the campaign paid $17,000 to fly Anita Perry to and from London last March for Saudi nuclear meetings, finance reports show. It's not clear what role Anita Perry — a nurse — played at the closed-door talks, though campaign finance reports said she went for government related activities.

....

Rick Perry is one of several Trump cabinet members who have come under fire for racking up expensive bills on chartered jets and first-class flights.

When Anita Perry has accompanied her husband on international trips, the Department of Energy says taxpayers aren't paying the bill. State campaign finance records show that Texans for Rick Perry — the campaign account that bankrolled the Republican's runs for governor — has picked up the tab for at least $60,000 worth of her flight costs.

....

During 2017, the campaign paid roughly $50,000 to cover her travel to Vienna, Cape Town, Rome and Paris for events including Africa Oil Week, a G7 meeting and an International Atomic Energy Agency conference, records show.

Anita Perry traveled to Rome in April 2017 for a G7 energy ministers meeting as part of the official U.S. delegation. There, she spoke at a side event called "Africa 2030: Empowering the continent through innovation, green tech solutions and capacity building," according to Politico.

In Paris last year, Anita Perry delivered a speech at a Women in Clean Energy event, where she was listed on the program as the former first lady of Texas and a "health, women and economic development advocate."

Anita Perry flew to Cape Town in October 2017 as part of the department's official delegation to Africa Oil Week, according to trade publication E&E News. Rick Perry's campaign account reimbursed the U.S. Department of Energy for the cost of her flights, campaign finance reports said.

....

Texas candidates who leave office with leftover campaign money can give it away to charity and political campaigns or use the money to cover officeholder expenses. In past opinions, the Texas Ethics Commission has said the money can cover those costs when a candidate moves to federal office. Spending on a spouse is OK, so long as it's in connection with the officeholder's duties, the commission has said.
Of course, this should surprise precisely nobody who has observed Rick Perry
over the years
.
But it's still funny.
Bottom Line: Don't ever change Rick Perry....