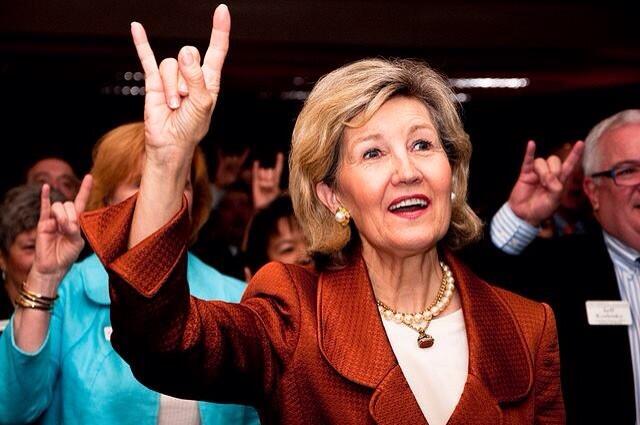 "

Therefore by their fruits you will know them

." Matthew 7:20

Gee, wonder

how she got to chair

the alumni association?!?
Hutchison pulled strings for friends' kids and grandkids at UT

Former U.S. senator Kay Bailey Hutchison sits on a committee tasked with finding the next president of the University of Texas, after Bill Powers submitted his resignation in July amid a scandal over favoritism shown to lawmakers in the admissions process.

If the university is seeking a president less susceptible to political influence than Powers, Hutchison makes an unlikely figure to consult, as she has been an avid string-puller for years.

A public records request turned up a dozen letters Hutchison sent directly to Powers in recent years, asking that he admit the children and grandchildren of her friends.

....

Two of the applicants had already been rejected, and Hutchison sought to have the decision reversed. All but one of the letters were written on U.S. Senate letterhead.

....

Hutchison remains influential in other ways, of course. She is president of UT's alumni association, Texas Exes, which has waged a vigorous campaign in defense of Powers. As president of Texas Exes, she was one of eight people named to the search committee automatically, under the regents' rules. There are seven others who were chosen by the board.

The dozen letters from Hutchison puts her in first place among others known to have interceded with Powers. Runners up include state House Speaker Joe Straus and two of his lieutenants, Reps. Dan Branch and Jim Pitts, each of whom has sent at least seven letters.

....

Or, as Hutchison added in a personal note to one of her "Dear Bill" letters, "I don't know her personally, but she comes highly recommended by my friends."

[Emphasis added]
Bush cronies unite!!! Read the whole thing
here
. Read Hutchinson's letters
here
.