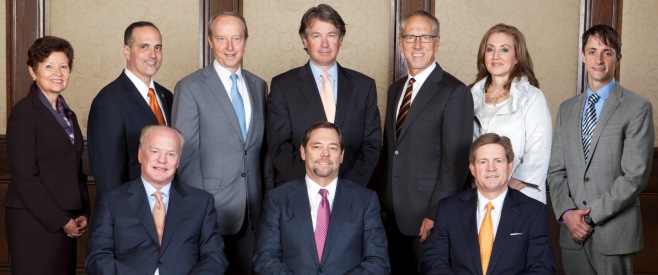 "Beloved, do not think it strange concerning the fiery trial which is to try you, as though some strange thing happened to you;"
1 Peter 4:12
[
Author's Note: The U.T. system's press release, which is actually pretty informative, can be viewed here
.]
Perhaps we're developing Stockholm Syndrome. Perhaps we're suffering from what
a former Governor
once called "the soft bigotry of low expectations." Either way, we actually found the UT Board of Regents' discussion of campus carry this morning to be not entirely reprehensible.
The Regents punted any action on this topic to their July meeting but it did not appear that they intend to rubber stamp the policies in question.
SB 11, the campus carry bill passed last session, allows the individual university campus presidents to designate certain areas exempt from the law subject to review from the Board of Regents. We never
supported that idea
, and
we called out
supporters of it during the primary. Nevertheless, it's part of the law and we found today's discussion revealing.
President Fenves spoke on behalf of the systemwide 'working group' that helped guide individual institutions. He detailed how they attempted to balance 'safety' concerns with both the letter and spirit of the law. While we certainly don't agree with every conclusion reached by Fenves' committee, for once we actually do respect the process.
The regents raised questions related to individual campus employees/faculty members banning firearms in their offices/classrooms and prohibitions on keeping a round in the chamber. Wallace Hall got Fenves to disclose that individual employees would not have to post 30.06 signs outside their offices. While Fenves defended the policy as legally permissible, Regent Jeffrey Hildebrand indicated that such a policy violated the spirit of the law. Hildebrand moved to strike the provision and require individual employees/faculty members to get explicit permission from the campus president. Hilderbrand also moved to strike an unenforceable UT-Austin prohibition related to keeping a round in the chamber. While the Regents postponed any action on Hildebrand's motion until the July meeting, their discussion was suprisingly robust. Among the regents, only Sarah Martinez Tucker carried water for the politburo.
Unfortunately, the regents were silent on the biggest problem with the UT policies: prohibition of firearms in dorms. Ultimately, campus carry is about individual self-defense, and you nowhere is self-defense more necessary than in you place of residence. Nevertheless, we're not going to rake the regents over the coals on a day where they had a reasonably productive discussion and will suffice to encourage the regents to address this shortcoming in the policy
before
tragedy strikes.
Bottom Line: It could have been a lot worse.