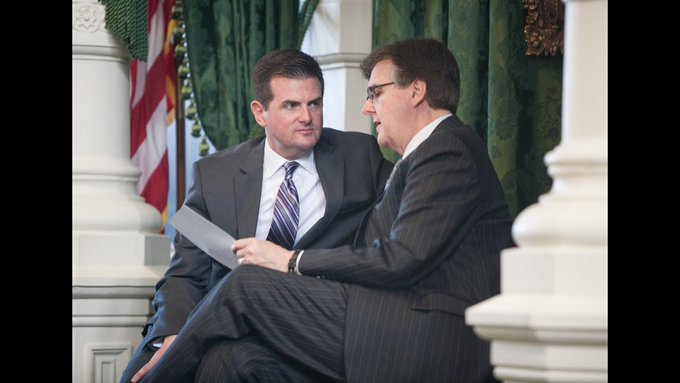 "My son, let them not depart from your eyes—
Keep sound wisdom and discretion;"
Proverbs 3:21
Good (we suppose)
:
Legislation to prohibit local governments from imposing job-killing mandates has passed the Texas Senate and is on its way to the Texas House.

Senate Bills 2486 and 2487 by State Sen. Brandon Creighton (R–Conroe) fight to rein in out-of-control local governments by restricting them from implementing their own policies regarding paid sick leave and employment benefits.

....

Originally filed as Senate Bill 15, the legislation was broken up into four separate bills by Creighton in order to get past the objections of Democrats and State Sen. Kel Seliger (R–Amarillo), who took issue with a provision to override local nondiscrimination ordinances.
Here's the thing: Literally nothing in the bills that passed yesterday, besides the fact that they've been broken into smaller bills, has changed.
The 'non-discrimination' carve out whose removal got everybody's panties in a wad?!?
Hasn't changed.
During floor debate, Kirk Watson attempted to amend Creighton's bill to include the 'non-discrimination' clause. Creighton declined to adopt the amendment and the Senate voted it down. The bill passed, regardless.
Which begs the natural follow-up question: If they weren't going/didn't have to change anything, then why didn't they simply
pass SB 15 a month ago?!?
The delay changed nothing substantive, but gave opponents the opportunity to beat them up for a month.
Do Dan Patrick and Brandon Creighton enjoy being beaten up by their political opponents?!?
Subconscious masochism is the only rational explanation.
-------
Then there's this: According to sources close to the conservative legal community, the 'non-discrimination' clause in question was,
potentially
, a
loophole that could have gutted the entire bill
.
Apparently, with creative lawyering,
any
conditions on employment can be spun as 'non-discrimination.'
Thus, the original 'non-discrimination' clause in the original bill couldn't stand.
Which begs the follow up question:
Why didn't Dan Patrick and Brandon Creighton just say so?!?
It's a simple explanation that makes a lot of sense (
once it's explained
).
Instead, Dan Patrick and Brandon Creighton
failed
to make this explanation, and got beaten up for a month as a result.
Way to go, guys.
-------
It's also worth pointing out the predictive scheduling and ban the box still haven't gotten done.
-------
Bottom Line: Even when they do good things, they mismanage them in the worst way possible....