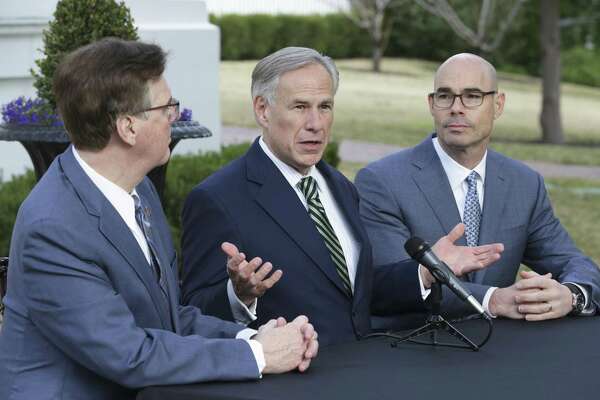 "If you see the oppression of the poor, and the violent [a]perversion of justice and righteousness in a province, do not marvel at the matter; for high official watches over high official, and higher officials are over them."
Ecclesiastes 5:8
July 15 campaign finance reports are out.
Abbott
:
Gov. Greg Abbott raised a staggering $12.1 million over two weeks last month after the legislative session ended and he was free accept contributions again, his campaign announced Monday.

It is the most the Republican governor has raked in during the traditionally dayslong fundraising sprint following the legislative session. The latest haul brought his cash-on-hand total to $26.3 million, according to his campaign.
Patrick
:
HOUSTON TX – Texas Lieutenant Governor Dan Patrick will report raising over $3 million on his July 15, 2019 Texas Ethics Commission report, bringing his campaign war chest total to over $11 million.

"I am grateful for all the support I have received and proud of this strong and clear endorsement of the conservative policies I am fighting for — life, liberty and Texas values, lean and efficient government and pro-business policies that are keeping the Texas economy strong.

"I have spoken to hundreds of grassroots and business leaders across the state since the legislative session ended in May and they are counting on me to continue the fight to shrink the size of government, reduce taxes and oppose the job-killing agenda put forward by liberals. I remain grateful for the opportunity to serve as Lt. Governor and I look forward to continuing the work we are doing to make the greatest state in the nation even greater."
Bonnen
:
Republican Texas House Speaker Dennis Bonnen has launched a political action committee to help defend the GOP majority as Democrats push to take the lower chamber in 2020.

Bonnen, an Angleton Republican, has started the group, Texas Leads, with $3 million from his campaign account, his team announced Monday. The political action committee will focus exclusively on reelecting GOP members to the House — a move consistent with Bonnen's insistence that incumbents do not campaign against one another.
[
Note: If Bonnen's gambit were a serious effort, he'd go on offense. He's not. That tells you everything.
]
This is dumb. It accomplishes nothing. Except that Dave Carney, Allan Blakemore, and whatever hacks are advising Bonnen get paid.
Also:
Mailers!!!
Lots of campaign mailers!!!
Bottom Line: Conspicuous fundraising when not facing competitive races is a great way to build fiefdoms....