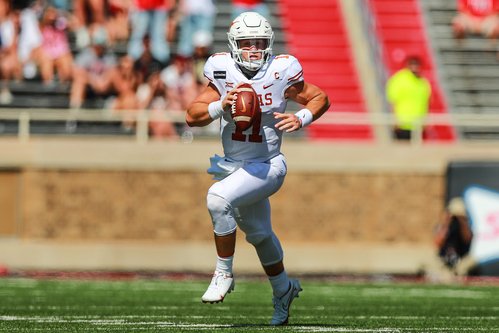 "And let us not grow weary while doing good, for in due season we shall reap if we do not lose heart."
Galatians 6:9
Let's state the first obvious point up front: Texas should have NEVER been in this position in the first place.
Let's state the second obvious point: Sports, and especially College Football, have been goofy in this COVID era. Weirder stuff has happened. No matter how you got there, What really matters what what happened once you were down.
With those two points made, let's state the third obvious point: Once they were in that hole, Texas figured out a way to come back and won.
For those who might not have been watching, the Longhorns were down by fifteen points with 3:45 remaining in the fourth quarter. That's when Sam Ehlinger picked this team up, put it on his shoulders, and willed them to victory. Somehow, someway, Sam Ehlinger found a way to lead the Longhorns to three touchdowns. In so doing, he turned what was looking like an UGLY 41-56 loss into an improbable 63-56 victory.
Wow.
But here's the thing: This game had all the markings of the stinkers to which Longhorn with which Longhorn Nation has become infuriatingly familiar over the past decade.
You know the list: Oklahoma State in '13, '15, and '17. OU in '14 and '17. Baylor in '13 and '19. Iowa State in '15 and '19. Tech in '15 and '17. Notre Dame in '15. West Virginia in '16. TCU in '14, '15, '16, and '19. Kansas in '16 (Shudder). And, of course, let's not forget Maryland.
Beacuse what happened in those games was well on its way to happening in this one.
But it didn't.
And that, in and of itself, is a testimony to how far this team has come.
Kudos to Coach Herman, for shutting all the idiots on Twitter up for a week.
Kudos to Sam, who has to be considered the early season Heisman frontrunner.
Defense obviously needs work. But that'll happen. What matters for today is that they got the stops they needed in overtime.
1 and 0 every week, starting with this one.
Wow.
#HookEm
Bottom Line: Considering where they were with 3:45 to go, getting out of Lubbock with and kind of "W" tells you a LOT about the makeup of this team. Today's win, combined with OU's loss, puts Texas in a strong position. Now go 1 and 0 against TCU.