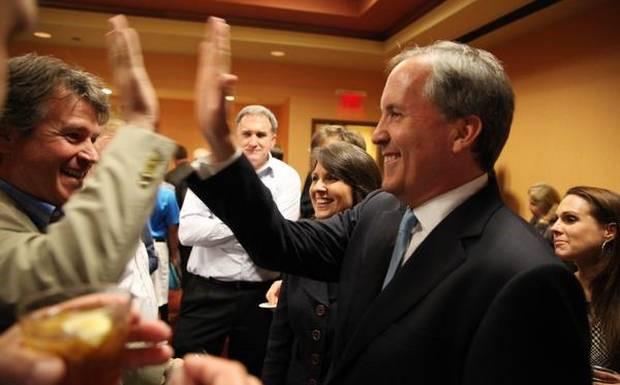 "And let us not grow weary while doing good, for in due season we shall reap if we do not lose heart."
Galatians 6:9
Nice
:
Texas Attorney General Ken Paxton has approved a request by University of Texas System Regent Wallace Hall to hire a lawyer in his quest for access to confidential student information, setting the stage for Hall to sue the system he oversees.

If Hall sues, or otherwise uses the services of a lawyer, the UT System should pay that lawyer's fees, Paxton said in the letter.

But, Paxton said, the system should instead consider just giving Hall what he wants. Paxton has already said he believes Hall has a right to see the information he seeks.

"If the System and regents complied with the requirements of state law," Paxton wrote, "this litigation would be unnecessary."

....

In most situations related to a regent's duties in office, a regent would be represented by the university system's general counsel. In this case, since Hall and the system are adversaries in the dispute, that would represent a conflict of interest. State officials who seek outside counsel need approval from the attorney general's office before they can make a hire.
Read the whole thing
here
.
-----
Update: The Dallas Morning News has a lot more:
Texas Attorney General Ken Paxton sharply rebuked the administration and board of regents of the University of Texas Tuesday, granting a sweeping ruling in favor of UT Regent Wallace Hall and stating that a recent board decision limiting regents' access to records violates state law.

In a stinging letter to UT Chancellor William McRaven Tuesday, AG Ken Paxton ruled that not only can UT Regent Wallace Hall hire an outside lawyer to fight for access to admissions records but that UT will have to pay the lawyer's bill.

Paxton goes on to note that while Hall's request for the legal help is being granted, it is "our belief that if the System complies with its obligations under state law, a significant portion of this litigation would not be needed."

Paxton's opinion is the latest development in an ongoing and increasingly entrenched fight between UT Chancellor William McRaven, his loyalists on the board and Hall, who has worked for years to uncover the role of political favoritism in the UT admissions process.

....

Paxton not only said yes, he concluded that the board's reaction to Hall's request violates the law.

....

"We believe this rule violates state law by imposing a substantive barrier to a regent's right to access information he believes necessary to fulfill his regental duties," Paxton wrote.

None of this is any surprise. Or it shouldn't be. A long body of opinion from past attorneys general confirms this is the law.
Read the whole thing here.
------
Paxton's full letter
: