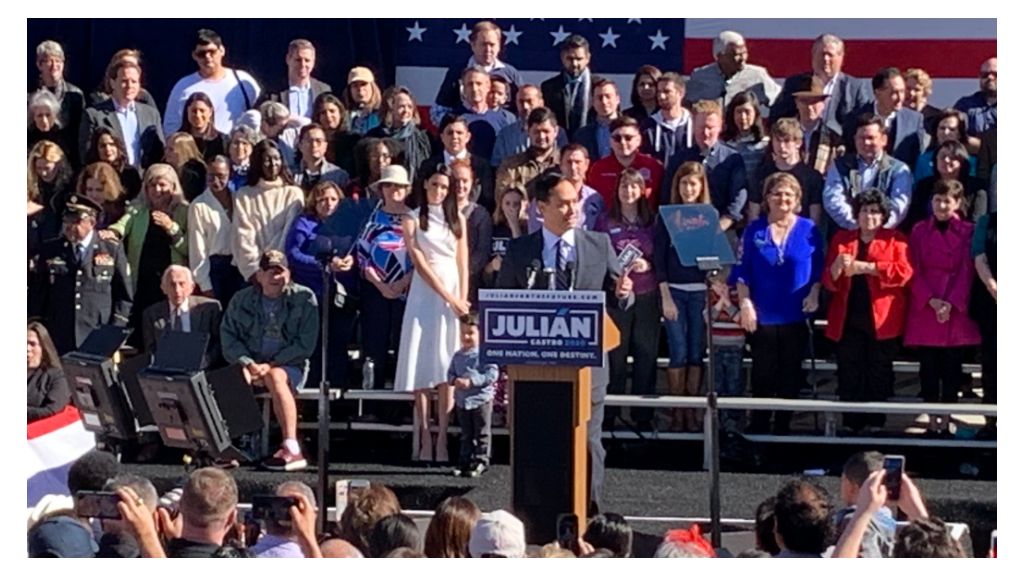 "There are many plans in a man's heart,
Nevertheless the Lord's counsel—that will stand."
Proverbs 19:21
We spent today in meetings related to session, but
apparently this happened
:
SAN ANTONIO — Julián Castro made it official Saturday: He is running for president.

The former U.S. housing secretary and San Antonio mayor made the long-anticipated announcement at Plaza Guadalupe, near where he grew up on the city's West Side. It came a month after Castro formed an exploratory committee, a mere formality on his way to unveiling a 2020 bid that for months appeared likely.

"I'm running for president because it's time for new leadership, it's time for new energy and it's time for a new commitment to make sure that the opportunities that I had are available to every American," he said.
Blah, blah, blah...
Understand something: Julian Castro
will not
be the Democrat presidential nominee. The only elections in which Julian Castro has
ever
run have been municipal elections in San Antonio. A municipal campaign anywhere in Texas is, to put it mildly, a different animal from a presidential campaign.
For those unaware: Most Texas cities hold their municipal elections in May. That means dramatically lower turnout than a November general election. Heck, that usually means dramatically lower turnout than March primaries.
Consider Castro's three elections as mayor.
2009
:
2011
:
2013
:
This is a guy who has never gotten
more than 43,000 votes in an election
. Furthermore, his vote totals plunged as San Antonio got to
know him better
. Castro was widely expected to
lose his 2015 campaign
, which was why Obama offered him
the golden parachute
at HUD in the first place.
And we're supposed to believe that a guy who's never gotten more than 43,000 votes is going to wage a successful national campaign?!?
Riiiiiiight....
-------
...however.
That does not mean his campaign lacks long-term implications. A presidential campaign boosts Castro's name ID to the point where he's a viable candidate for Governor. And 2022, as a six-year itch election, could get
really
dicey.
[**
COUGH, COUGH** Especially with this president ** COUGH,COUGH
]
That's not to say that Julian Castro is currently planning a gubernatorial run. We have no doubt that Julian Castro believes in his own mind that he can win the current race. But it is to say, however, that a Governor run is Castro's logical next play.
-------
A few thoughts on Castro, in case opposition researchers are reading.
Julian Castro has been playing "the game" in Texas for close to 20 years. During his time as mayor, he was surrounded by a
miasma of crony capitalism
. Nothing ever stuck but, as we said above, there's a reason why Obama gave him the golden parachute prior to the 2015 election.
[
Note: We don't have the time or interest to do it ourselves, but if an enterprising blogger/oppo researcher/reporter were so inclined, it could be very interesting to read Castro's campaign finance reports from his mayoral runs and cross reference those against zoning changes made by the SA city council during Castro's tenure.
]
Speaking of dirty San Antonio politics,
there's also this
:
Specifically this:
See
here
for more.
-------
Bottom Line: Castro's presidential campaign likely won't amount to much, but it could still have long-term implications.