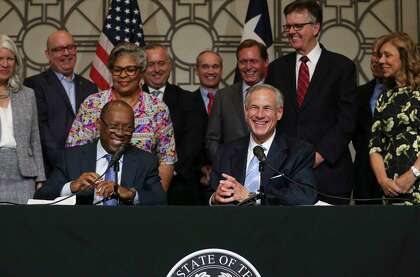 "I will set Egyptians against Egyptians;
Everyone will fight against his brother,
And everyone against his neighbor,
City against city, kingdom against kingdom."
Isaiah 19:2
Oh good grief
:
Texas is likely another nine months from getting $4.3 billion in federal post-Hurricane Harvey recovery money aimed at better protecting the state from future flooding and disasters. But when it finally arrives, Gov. Greg Abbott made clear Friday the state will be handling the money directly and not turning it over to cities and counties to manage.

While some local officials expressed frustration over the decision, Abbott said he's turning to Texas Land Commissioner George P. Bush to lead the program aimed at large-scale, regional projects. Bush has already been tasked with dealing with housing recovery issues since Harvey hit Texas in August 2017.

....

Similarly Houston Mayor Sylvester Turner said the city will continue to work closely with Bush's agency, but made clear who will be to blame for delays in getting work completed.

"If there will be any delay in the distribution and use of flood mitigation aid, it will come from the federal and state government," Turner said.

Texas has been waiting for the money since February 2018, when Congress first approved the disaster mitigation program. But it took until August for the U.S. Department of Housing and Urban Development to publish rules on how the money can be used.

Now, Bush and the Texas General Land Office are required to develop a "state action plan" that must later get yet another approval from HUD. According to a joint statement put out by Abbott and Bush on Friday, that could take another "nine months or more to complete." That would mean July 2020 — just short of three years after Hurricane Harvey made landfall.
Blah, blah, blah.
This is a scumbag on scumbag fight. Greg Abbott and Sylvester Turner both want to supply graft and patronage. Just different beneficiaries. No matter who "wins," the public loses.
Don't get us started on that three year "rulemaking" process.
The Texas Observer, meanwhile, has more
here
.
Bottom Line: This is why you never ask the Feds for money.