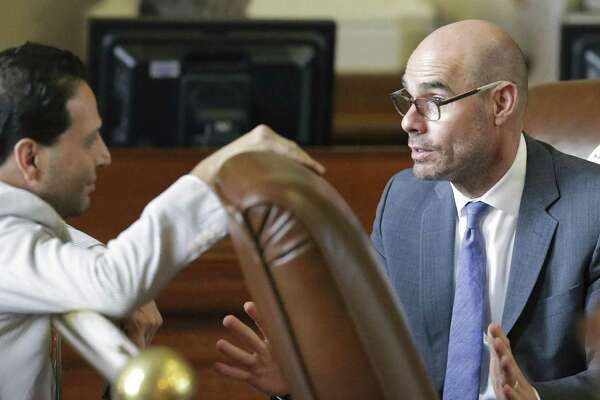 "When the righteous are in authority, the people rejoice;
But when a wicked man rules, the people groan."
Proverbs 29:2
[
Note: We'll be travelling out of state most of the next week, we're not sure when we'll resume publication.
]
Interesting
column from Ross Ramsey
this afternoon:
Who would have guessed that sharing political confidences with a political foe — a conversation that upended the speaker of the Texas House — would have real competition for the biggest blunder a House member might make this year?

The newest contender became public Wednesday: Dropping an envelope containing four packets of cocaine at an Austin airport is clearly a dumbfounding mistake. But the frosting on that particular cake was on the outside of said envelope — which bore the official letterhead of state Rep. Poncho Nevárez, D-Eagle Pass.

....

The timeline raises some questions. Nevárez was seen on surveillance cameras dropping the envelope as he got into an SUV after arriving on a private plane — in September. For reasons that aren't completely clear, the Texas Department of Public Safety kept a lid on the news for more than two months.

....

On Thursday afternoon, a warrant for the legislator's arrest was issued; he faces a charge of third-degree felony possession of a controlled substance, which carries a maximum punishment of 10 years in prison.
Ramsey then speculates over how Bonnen's and Poncho's scandals could impact the current election cycle. Ramsey's hypothesis is that the scandals portend well for conservatives. Perhaps.
Allow us, however, to suggest an alternative:
Regardless of how the 2020 cycle plays out, 90%(+) of legislators will either be cowards or scumbags
.
The precise makeup of R's, D's, scumbags, and cowards won't change the nature of the beast.
Last month, as Bonnen's scandals continued to fester,
we wrote the following about Republicans
:
It's no longer just about Dennis Bonnen. Or one act of political funny business. This specific scandal is the completely predictable result of

the toxic culture in the Texas capitol that

has prevailed for a long time.





The GOP, meanwhile, has been running the place for a quarter century.





This is the same Republican majority that:




Two years ago, put a man who had been in a sexual relationship with a lobbyist for over a decade in charge of writing its sexual harassment policy.

The pattern is obvious...to anyone not under the influence of afore mentioned Egyptian rivers.




It can't be defended, and it shouldn't.
Since then, very little has changed for the GOP. Sure, Bonnen's
gone
kinda sorta going away. But
the culture of corruption
within their caucus remains.
But then you look to the Democrats...and...well...
Poncho
.
You can't justify either.
Bottom Line: Whether we're in the territory of "whoa," or the territory of "woe," neither is good.