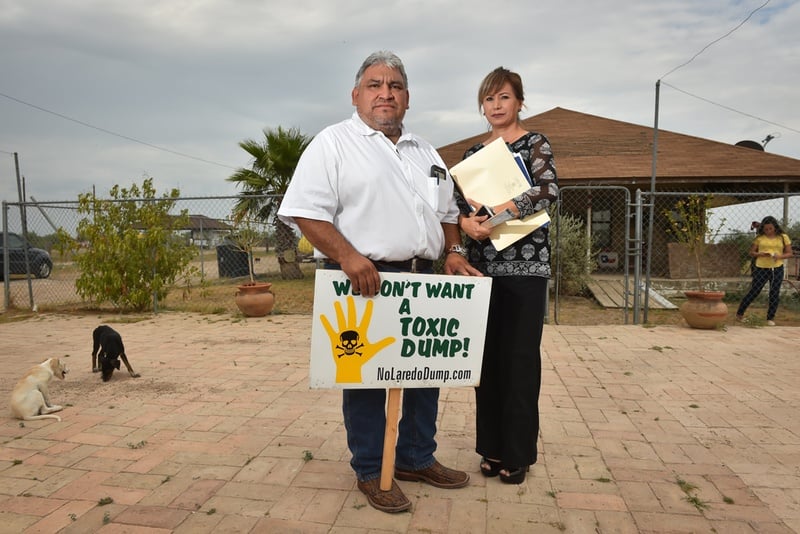 "I brought you into a bountiful country,
To eat its fruit and its goodness.
But when you entered, you defiled My land
And made My heritage an abomination."
Jeremiah 2:7
A couple of years ago,
we discussed how
a landfill project in South Texas didn't sit right. It seemed like TCEQ was telling local residents one thing and telling something different to the developers. We furthermore remarked that one of those afore mentioned project developers seemed to be
playing an environmental smoke and mirrors game
.
In late March, TCEQ announced another hearing on the topic. We have a source who's been following the issue with whom we've been corresponding by e-mail since the hearing was announced. We're reprinting the relevant sections with permission.
"Red Panda" to us, 4/5/2018:
That Laredo landfill issue is still brewing… The TCEQ has set a public meeting for May 1 in Laredo.

The TCEQ has also extended the public comment period for 30 days beyond the date of the public meeting date.

It appears that TCEQ staff violated agency rules and their own legislative testimony by approving the landfill to be built in a 100-year floodplain just days after promising lawmakers that, "the standard is you still can't develop [landfills] in a 100-year floodplain."

The 953-acre Laredo floodplain landfill complex has never received the required county floodplain development authorization, never addressed underground oil and gas pipelines, and never resolved property ownership conflicts or otherwise complied with TCEQ's own requirements specifically imposed in Notice of Deficiency issued by the agency on October 11, 2016.

The public will have a chance to weigh in on this on May 1 at 7PM at Texas A & M International University, Student Center 2nd Floor Ballroom,

Room 203 5201 University Boulevard
TCEQ's testimony related to 100-year flood plains occurred at
an interim hearing
of the house Environmental Regulation committee in January; Webb County's letter outlining the violations in this specific instance can be viewed
here
.
"Red Panda" on 4/11/2018:
The residents still appear to be worried. And speaking of TCEQ, they've set a public meeting for about two weeks from now, on May 1 in Laredo.

The public comment period will also be extended by TCEQ for 30 days beyond that May 1 public meeting.




The meeting is probably going to be pretty heated. Opponents of the landfill are pointing to TCEQ staff apparently having violated agency rules and gone counter to their own legislative testimony by approving the landfill being built in a 100-year floodplain. In testimony to lawmakers,

Earl Lott, of TCEQ's Permit Waste Division, appears to have stated that TCEQ currently bars construction within the 100 year floodplain, and that TCEQ is "

required to coordinate with FEMA to assure the facilities was (sic) not located within the 100 year flood plain."




Opponents also point to Webb County's Planning Department having denied the landowner a floodplain development permit, which is needed to move forward. So there are more than a few things here that do not look quite right on spec.




Anyway, if you're in Laredo and you're looking to watch a big public fight go down—or you want in on it—the TCEQ meeting will be on May 1 at 7PM

at Texas A & M International University, Student Center, 2nd Floor Ballroom,

Room 203, 5201 University Boulevard, Laredo, Texas 78041-1900

.
Bottom Line: At a minimum, TCEQ should be saying the same thing to local residents and the developers. They should also follow their own rules. For whatever reason, that's not currently happening....