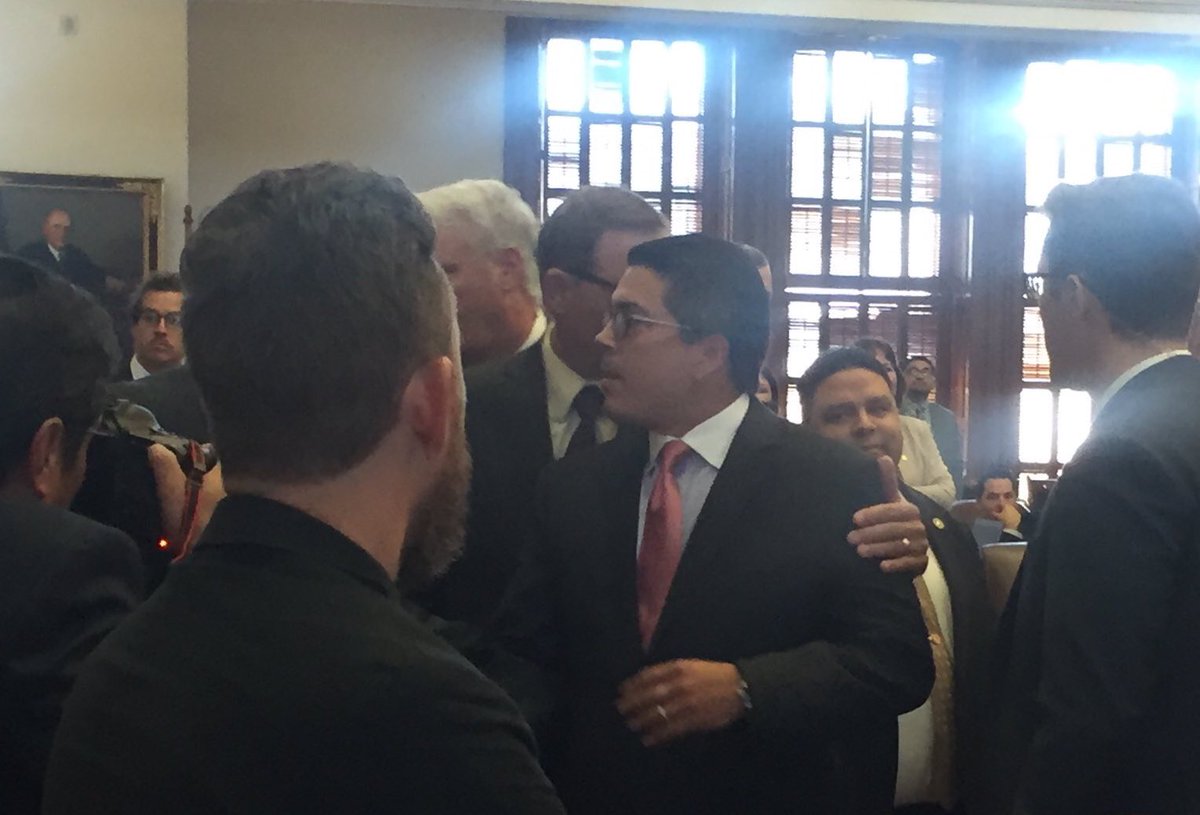 Chris Paddie aggressively confronts Matt Krause




"

And then I will declare to them, 'I never knew you; depart from Me, you who practice lawlessness!'

" Matthew 7:23

Some notable, albeit predictable, items from today:
Shady SB 19 calendar rule - The house adopted a calendar rule for to restrict the type of amendments eligible for the retired teacher health care bill up tomorrow. Todd Hunter's stated reason for the amendment was to speed up the conference committee process. Unfortunately, as Matt Rinaldi got Hunter to confess under questioning, Hunter's rule explicitly prohibits the type of amendment that would allow the Senate to concur and skip the conference committee process entirely.

As Rinaldi correctly pointed out, adoption of this calendar rule will (because of time constraints) eliminate any chance for an agreement on helping retired teachers; so this was a vote against health care for retired teachers.

Jonathan Stickland correctly described leadership's actions in arbitrarily and lawlessly restricting the type of amendments that can be offered as tyranny.



Refusal to consider third reading amendments on SB 1 - As part of an agreed upon deal during last Saturday's floor debate on the property tax bill (to get the spending cap bill to the floor), the Freedom Caucus agreed to pull down several amendments and send the bill to conference committee. Unfortunately, leadership reneged on their end of the deal. Thus, the freedom caucus pre-filed the amendments and intended to bring them back on third reading today.

But Dan Huberty had other plans: Afraid to cast a record vote on the freedom caucus amendments, Huberty produced 25 signatures and immediately "called the question" (ie. moving immediately to a vote on the bill without considering amendments). Several freedom caucus members, led by but not limited to Stickland, vigorously questioned Huberty and Dennis Bonnen about the last minute change. Bonnen attempted to argue that second reading was the appropriate time to discuss amendments, while omitting that leadership's about face on Saturday's deal happened after second reading on SB 1.

Following the vote, Chris Paddie aggressively confronted Matt Krause on the floor and attempted to lie about leadership's action Saturday; Paddie was physically restrained, and eventually led away from the confrontation, by Byron Cook (Note: You know it's bad when Byron Cook is the voice of reason).
Zedler's union dues amendment on the school finance commission bill - This one wasn't particularly shady, but it was really entertaining to watch. During consideration of a bill to create a school finance commission, Bill Zedler offered an amendment to study how much the start.

Dan Huberty acted particularly butthurt and claimed Zedler's amendment was some sort of restriction on the ability of teachers to participate int he political process. Byron Cook claimed Zedler's amendment was "discrimination" against teachers. Two separate points of order were called by democrats.

The amendment ultimately got 49 votes, which was better than we thought it would do.